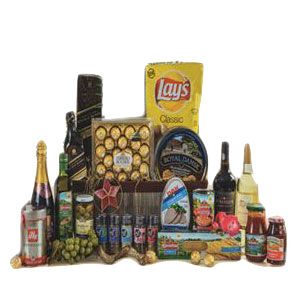 Christmas Ultimate Gift Basket with Bouquet of 24 roses
The Christmas ultimate gift basket
Johnny Walker Double Black 700ml, Richebaron Vin De France 750ml, Nature Orchard 100% Sparkling Red Grape 750ml, Illy Espresso Ground Coffee 250g, Contadina Napoletena Pasta Sauce 420g, Beringer Knights Valley Cabernet 750ml, Contadina Extra Virgin Olive Oil 500ml, Smuckers Strawberry Preserves 12oz, T 24 – Ferrero Rocher Chocolate 300g, Contadina Stewed Italian 14.5oz, Dak Chopped Ham with Pork 454g, Contadina Premium Spaghetti 500g, Molinera Green Olives Plain 340g, Royal Dansk Danish Cookies Collection 454g, White Hat Bay Whole Leaves 2g, White Hat Mixed Herbs 10g, White Hat White Pepper with Salt Free 62g, White hat Rosemary Leaves 18g, White Hat All Purpose Salt Free 16g, Lay's Potato Chips Regular 6.5oz, inclusive two dozen roses bouquet. 
Note: Alternative substitution for items or container if unavailable.

NOTE
We reserve the right to substitute flowers that are not in season, likewise we also reserve the right for artistic variation of flower arrangements depicted in the photos.